Lost Mountain Lodge Sequim WA, Bed and Breakfast
Comfort in Lodging here in Sequim
Nestled in a quiet corner of the The Pacific Northwest's Olympic Peninsula, Lost Mountain Lodge is the premier bed and breakfast destination for those seeking luxury, comfort, privacy, and romance. Feast your eyes on our lavish gardens, tranquil ponds, and gentle wildlife.
Breakfast at the Lost Mountain Lodge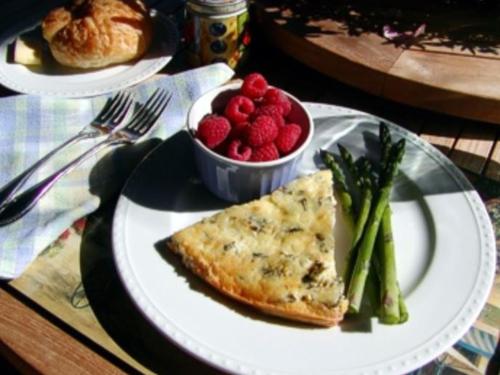 Welcome to the section of our website devoted to recipes, gardening, cooking classes, and much more! Have a look around and enjoy yourself, you might even learn a thing or two. Don't forget to check back often, we will be updating the kitchen page and adding more information monthly.
Amenities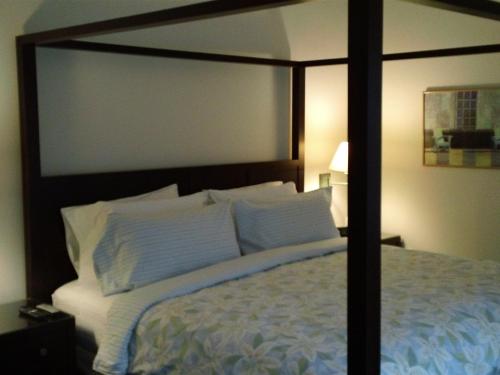 Every B&B suite at the Lodge is designed to delight the senses and pamper the soul, which makes our accommodations a refreshing lodging alternative to traditional hotels.
MICROFIBER RESORT ROBES
Our guests simply adore these robes and we?ve sold hundreds of them. These luxurious 100% microfiber robes have a silky twill outer shell and a spun terry lining. Featuring side pockets, double belt loops and an extra wide belt, these fast drying, mildew-resistant robes have survived years of daily laundering here at the Lodge and still look like new. Order one for each of you and inspire a little romance at home!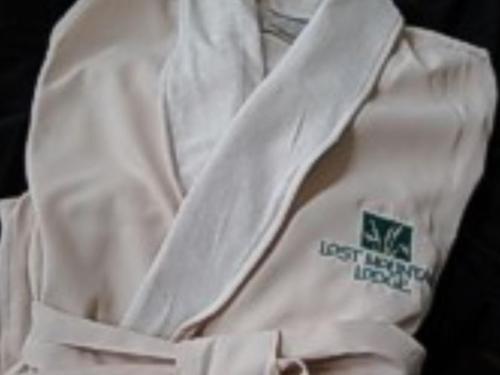 Available in Small, Medium, Large and Extra-large.
Choose from two colors both with our embroidered logo:
Black Robe with Black Lining
Natural Robe with Ivory Lining
$75 each plus tax & shipping
Best Places to Kiss Cookbook
For years, The Best Places to Kiss in the Northwest travel guide has led readers to the most romantic restaurants, wineries, B&Bs, and inns in the area. Our own signature dish?Lost Mountain Lox Benedict?is featured in this cookbook. Discover what the Northwest's most romantic restaurants, wineries, B&Bs, and inns have to offer. Covering breakfast, appetizers and small plates, salads, main courses, and desserts, the book includes engaging sketches of each recipe's source establishment, as well as cooking tips and reasons why these dishes are the perfect companion for that special tête-à-tête. Informative sidebars profile romantic films, aphrodisiacs, wine pairings, and other Northwest epicurean excursions.
$19.95 plus tax & shipping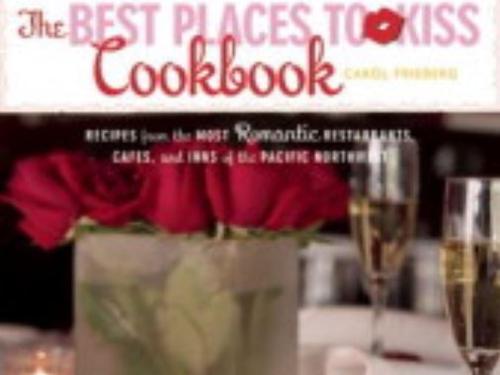 To order call us on our Toll-Free number 888-683-2431 or 360-683-2431.

Prices do not include shipping, handling and Washington State sales tax.

Shipping and handling is determined by the number of items, weight and destination.
 
Acres of lush manicured romantic landscapes, exquisite private suites and cottages, gourmet meals from our chef's on site organic gardens; but there's more…..

At Lost Mountain Lodge you can choose Olympic National Park lodging from the best of both worlds; an exceptional country inn with luxury B&B Suites or independent Private Cottages. A centrally located retreat on the Olympic Peninsula, the Lodge is literally minutes to the main entrance gates of the Olympic National Park at Hurricane Ridge and Deer Park.

Beautifully and privately situated on nearly 10-acres of sunny mountain views, idyllic ponds and cottage gardens, our Port Angeles area bed and breakfast is relaxed, refined and refreshing. As the number 1 rated B&B for Sequim lodging for the past 10 years, we're only five minutes by car to great beach combing and bird watching at the Dungeness Spit & National Wildlife Refuge. Come and explore the nearby tide pools, hike the misty Hoh Rain Forest, Whale Watch on a private or chartered vessel or kayak on an expedition including private guide to the New Dungeness Lighthouse. Are you a fan of the Twilight series? We'll provide a great self-guided tour map of the best places to spot vampires and werewolves near Forks.

Our property is a National Wildlife Federation Certified Habitat. As soon as the day-lilies bloom, our gardens are full of hummingbirds and various other local species. Join us to see hundreds of iridescent turquoise dragonflies flitting through the cattails on our ponds. After enjoying a wonderful dinner of fresh and inventive local Olympic Coast Cuisine at a romantic restaurant, or on our charming deck with bistro service, linger in our hydrotherapy spa under the stars. Our private estate is also the perfect place to plan an intimate destination wedding or just escape the hustle & bustle of city life and just do nothing.

Discover for yourself why Lost Mountain Lodge is named one of Washington State's Top 40 Special Places to visit, and the Best Weekend Escape in North America!